I believe it would be no exaggeration to say that the minds of everybody in the entire world were completely shattered by the fact that the West Indies did not lose the Test this week, and in fact nearly humiliated this. Does this prove that our current test team is pretty crap? Probably. Or does it suggest the Windies are better than we thought? Also probable. Maybe both at once. Why must everything be mutually exclusive with you?
The clear thing is that the line-up must change before the next Test. And on cue the selectors have confidently announced that they will do nothing.
For the record... actually I don't know what my team would look like. But hey, I'll pull names out of a hat!
1. Shane Watson
2. Chris Rogers
3. Ricky Ponting
4. Cameron White
5. David Hussey
6. Andrew MacDonald
7. Tim Paine
8. Mitchell Johnson
9. Nathan Hauritz
10. Stuart Clark
11. Doug Bollinger
Yes, that's right, tree-huggers! I KEPT Watson at the top of the order!
I'll keep that run-down out in fairlytale land where it belongs, though, and focus on the real bane of the lineup - Michael Hussey. The favourite batsman of every bowler in the planet for making them look good. This pale, sun-screen soaked dorky bundle of nerves flinches at every ball, waves his bat around like a maniac and - regardless of where the hell the ball goes - jumps a metre out of his crease every single time, often while yelling "NOOOOOOOOO!". Mixed messages are his speciality. On top of all this he dishes out laughably inaccurate weather forecasts on the ABC every night..
Co-incidence? There is no such thing..

Clearly this proboscally-overendowed 34-year-old n00b has to go - it's a long time since his prime, in the days when his postman father threw rocks at him as he defended himself with a piece of pailing-fence cut off. (Seriously, this did happen - interestingly not as a sinister case of domestic childhood abuse but actually his dad training up for the post office's annual match. What a wonderous place WA must have been in the late 70s...)
The question is, who to replace him? Well, that mystery's already solved if you read my above list - kinda - in the big-hitting part-time leggie, the mysteriously crab-eyed and aryan Cameron White..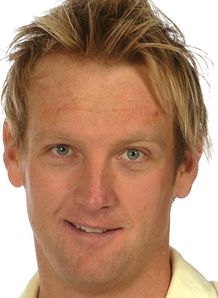 Or, to be more racially-minded, this random black guy apparently also named Cameron White..
God bless Google Image Search for it's abilty to uncover fresh talent. This whole post will also be unintelligible if any of these links break....
However, when I put the question to my dad who should take Hussey's place in the side, he had a much more interesting and unexpected answer....
Australia's secret weapon?
..himself.
On the face of it, this may seem a big ask. I admit, the stats are not terrific..
First Class:
Mat 0
Inns 0
NO 0
Runs 0
HS 0
AVE N/A
BF N/A
SR N/A
100 0
50 0
Ct/St 0/0

But he was a fiercely competetive club cricketer, regaling me with dozens of tales of his time at the creases. A strong all-rounder, fielding in slips, covers, the outfield and a frequent keeper as well as bowling both off-break and express and an aggressive wielder of the bat. I don't know if there's any chance of him meeting Mike Hussey's average of 35 for the series so far (his high score was 45*) but there's no doubt he could score such runs at a Strike Rate well above Hussey's one run per 5 balls. Plus he'd be able to cover for the team's many other deficiencies, providing a wide range of options. 5 man pace attack? Boom, you've got it. Spinners at both ends? Ditto. Haddin wants a bowl? Pass PW Hansen the gloves. Wrist spin? Ehhh... he'll give it a go. Don't expect magic - he's no Simon Katich.

He never made a five-for, sadly, but assures me he would have if only the fielders were any good, and his career was checquered in history - his claim to fame is both being present at possibly the only ever fist fight in a cricket match, and not being hauled to a NSW cricket tribunal to explain his actions. (He was the umpire of the match, forced by circumstance to adjudge an LB decision against a team mate which lead to a king hit. You can work out the rest, I am sure..)

In a team of the walking dead that Australia's using now, he's also a good candidate to avoid injury. When a Sydney knee specialist who worked with all the rugby league stars of the day cut him open he announced my dad had officially the worst knee-joints he had ever seen, and that he'd be in a wheel chair in eight year's time. That was nearly twenty years ago - it takes some serious injuries to bring this guy down.

You know it makes sense, Cricket Australia.

My dad also wants to throw down on Tony Abbott and meet him in the boxing ring, Uwe Boll style. I've got his back on that one.