Assuming that's actually the title. I can't remember, I hated the episode.
Sigh, time for me to bite the bullet and review this shit. Yeah, I could easily skip it but damnit somebody cursed me with some sort of Episcopalian work ethic somewhere along the line that forces me to always
try
and finish stuff even if it takes me over a year to do it. So here we go...
Sadly I have to watch the episode again because... nothing of it sticks in my mind it's just horrible...
Okay, that was about two seconds now I have something to bitch about again. Why is the library even in this story? What does any of it mean? Presumably the library is a metaphor for something, as it serves no function to the plot as it could so easily have been set in, say, a dead city or a cave system or ANYWHERE. Let us assume that it's a metaphor for imagination and the duality thereof between the mind and imagination, as Cal
imagines
the library, yet at the same time in a
Life on Mars
-style trick the consciousnesses of the departed are
on the library computer
. As with Sam Tyler at the point where he commits suicide, whether they are alive or dead becomes more complicated than the ruminations of Schroedinger and enters a grey area of debate. So... why is this completely irrelevant?
For this metaphor to work the library needs to be the cradle of imagination, the lifeblood of a child's mind, even more for that, a symbiotic aspect that fuels it with knowledge and wonder in place of blood. Yet the characters within are either scared of libraries, view them as property, or sneer at them as nothing but boring repositories where some tacky pop fiction can mercifully be found (This view, shockingly, given by the Doctor himself. Wash your mouth out, motherfucker!) Furthermore, the script is really about television.
Why? Fucked if I know. That's exactly the point - what is going on here? The script is trying so hard to break the fourth wall and impart an elusive
something
to me that it hurts. Cal watches the Doctor, and hence the library, through the television throughout the story. Obviously a metatextual wink as the television is where the Doctor lives, of course. The other suggestion possible is that the television has superceded the library as the place for a child's imagination - that's also true. But does the contrast of trashy television that Cal flicks off in order to try and hunt the Doctor through the airwaves symbolize a ... drowning of imagination in mediocrity? Or is her desperation to find him a parallel to the experience of many a Who fan in the 80s, presumably Moffatt himself included, of trying to figure out where in the schedule they could get their dimunitive Scotsman fix? Or is it ANOTHER metaphor for the wilderness years wherein fans could not find the Doctor anywhere? Again, I don't know. Textually there seems no clear message...
Much of the episode is in turn taken up by Cal's reactions to the Doctor and Donna's trials and tribulations as seen on her telly - fourth wall shattering at its most intrusive, recursive and downright boring. Within here there is one particularly odd example, during one of the many oh-so-blatantly-screaming-out "River Song is the Doctor's wife motherfucker!!!" moments that fandom keep telling me are 100% 'ambiguous', which evokes a response from Cal to throw down the remote and scream angrily at the TV. Again... I know there is a point to be made and that the writer is throwing it in my face with zero subtlety. But also zero coherence.
So... is Moffat uncharacteristically voicing the views of Davison and JNT that kids don't want to see the Doctor doing 'kissy' stuff? Is he
mocking
this view? Is Cal not symbolic of the show's official target audience but of the actual audience, or, as Moffat sees them, the 'nerds' on OG, who point out that there's no oppurtunity for Reinette and the Doctor to have sex in
The Girl and the Fireplace
unless it's a menage-a-trois with The King? (Yeah, that was me) Again... if he is doing ANY of this what's there to prove.
This is all compounded by the nadir of the story, if not for the character of Donna and/or the series itself - Donna's 'prison' in the computer's core. I admit I don't really watch much television because of our limited setup (ABC and SBS only) so I have no idea what exactly this is a parody of. I can just tell that it's a parody of
something
, possibly mid-day soaps like the hilarious bad
Passions
(if you can watch an entire episode you get a prize!) or of the cheapo-looking evening soaps ala
Neighbours
and
Eastenders
. Of course if either is likely to be the target it would be the latter as EE is the show that killed DW. But then...again... my question is what does it mean?
There's a lot of subtext in this story, I know because it keeps shoving it in my face but WHAT DOES ANY OF IT MEAN?!?!? Does it connect to ANYTHING? I mean, let's assume that Donna's a prisoner in EE and therefore the hospital (and therefore Doctor Moon) represents DW's 'enemy'. Does it then thematically make sense for Doctor Moon and the hospital to [sort of] save the lives of all those faceless losers at the end? But if it
does not
represent EE... is there any point for it even being in the episode? It's like a massive gumbo of themes and plot points, all just sloshing about in a bowl, with nothing connected to anything else.
The end result is that the whole thing feels like a last-minute script written by somebody who's falling back on something that doesn't belong in it at all - the mindset one doubtlessly gets from working in TV for about two decades. For a story ostensily about a library (insofar as it can be said to be about ANYTHING at all) this is very, very bad.
As stated in last week- er, the last review I did - this story is full of Moffat's absolute worst characterisation, which is a shame considering that we're meant to fall in love with *shudder* River Song in the space of knowing her for about ten minutes (Hint: get a decent actress next time you try this) so is sort of the most ambitious story in terms of characterisation made. You could say that it's best to try and fail rather than not to try at all, but I know what's best to see on TV.
I have not seen either
Press Gang
or
Coupling
(No, it's not some sort of mental condition) but it is interesting to note that people who
have
seen them (namely Lawrence Miles and Ewen Campion-Clarke, who I'm sure don't want to be mentioned in the same sentence but it was kind of necessary there) comment, with regards to one of
both
series, that in Series 4 women suddenly become needlessly cruel bitches. That is quite a conincidence for that to happen in that number of series with two completely different shows. Or, should I say,
three
completely different shows.
For, yes, DW is indeed in its fourth series at the moment. That said, none of the females can fairly be described as 'needlessly cruel bitches', but ALL can be referred to as 'terribly characterised'. Donna, instead of being the anti-companion that over stories have so-proudly worn on their sleeves is now not only the cookie-cutter companion we're so used to (and in some case sick of) but is also utterly sidelined despite her traditionally dominating presence. She is also given a completely out-of-character fantasy-land where she marries the first guy she meets,(Well, second guy. She may think that black guys are cursed after Lance) an action I consider so odd I wonder if Moffat is cunningly using 'marriage' as a euphemism for 'sex' in a few of his scripts.
And then Miss Evangelista. Hoo-boy. The character does suggest some issues behind the first wall, with a very frank formula offered "Beauty = stupidity", which seems to be the recipe for a horribly stereotyped character to begin with, but when taken to the extent that the character suddenly becomes an eloquent genius when her face is torn apart by a computer malfunction and... I dunno. One of the few bits in the story that I consider creepy - but doubtlessly not for the reasons intended.
A quick note about the Doctor, you know the guy who's apparently the heroic god of all space and time but basically spends the entire story unable to work any pieces of technology, is slow-witted to the extreme and a delusional paranoid wreck who is unable to wrap his head around the concept that its possible for him to meet somebody who has already met him (YOU FUCKING TOOL!!!) instead assuming that River Song is "AN ALIEN SPY!!" (okay, that's my quote). He sucks in this story, he really does. And I feel the need to mention it because the factions of fandom telling me that River Song isn't necessarily the Doctor's wife (Guh?) offer me the alternative explanation:
The Doctor only gives River Song his name so that he can trust her when he first meets her and the screwdriver so that he can fix his own at the end.
On the surface that may seem fine, unless you're like me and think that the show should have an all Onthiological plotline prohibition now that Moffat has completely destroyed them through insane over-use, but scratch beyond the surface and this is surely one of the most disturbing things the Doctor has ever done? I mean, instead of just sending a screwdriver back in his time-safe with a post-it-note saying "Hey, buddy, this will help in the Library" he decides to hunt down and systematically seduce a young archaeologist, cons her into an empty, loveless marriage just so that she can show up when he needs an extra hand? Jesus Christ the disturbing mindsets fandom must have to find this acceptable! Was McCoy ever
that much
of an arsehole???
Anyway, we have a story with no themes, a cast with no character, a general sense of malaise and self-absorption. How's the best way for this to climax?
"You're in the biggest library in the Universe. Look me up"
This is the big iconic moment of the show, especially so to myself as one of the bits conspicuous for NOT being complete crap. But I'm torn - Ewen says that it's a great moment. Larry says cop-out. (Oops, done it again there..)
Ultimately, they're really both right - it's a great moment.. that's used as a cop-out.
If the Doctor was facing a highly intelligent enemy with extra-sensory powers and the moment did not occur at the episode's climax it could be very cool. Or, I guess it could if you actually like 45 solid minutes of 'shipping and no Donna action it could work as is. But then who am I complain about a dodgy climax - this is entirely appropriate ending for a story as far up it's own arse as this one and
does
finally make some vague use of the library setting - a factor that critically sets it apart.
That said... I am once again distracted by small details such as pica-scopic dust-mites being able to read a collection of works on the Doctor in the space of ten seconds when they're barely able to construct a sentence with far simpler technology.
As usual though I feel the need to clarify that Larry does take his criticism too far and leaves me wondering just how the fuck he sees the world when he suggests that the incident 'clearly indicates' that Moffat is planning an 'even more God-like' 11 the Doctor.
Show your working, please.
Ultimately it's nowhere near as bad as insisting that when Tosh is thrown in a 'Guantanamo Bay' cell that this is presented as a comedy moment. I wouldn't mind him being so massively off his face were this not actually Exhibits A - J for his case against Chiball being a shit writer, and apparently his sole reason for hating the series.
But... seriously... what made him think that was meant to be funny? I mean, come on! Does he take unusual amounts of pleasure in seeing Asians locked up and assumes that this is a universal disposition?
He is of course correct in pointing out that UNIT being concerned about homeland security makes absolutely no sense if you remove it from the narrative universe, but blaming Chibnall is foolish when we see that exact same slant in the parent show of 'Big Russell'.
What's that? I've just spent four paragraphs not even deigning to mention the episode that I'm technically reviewing? Oh, I apologise for my unprofessionalism! Let's have a look at the far more informative words of wisdom that
Eye of Horus
have to offer...
EPISODE REVIEW - PENDING SUBMISSION
Wow. Do you guys work for CNN in your day job?
Of course, I should probably fess up in that I'm living a white lie in that I haven't entirely watched the episode. I half-watched it at that convention, you know, and saw that everybody survived in the computer world and that River Song sacrificed herself in some way and that the Doctor flew through a wormhole with his sonic screwdriver... but I think the fact that at no stage did I feel compelled to watch this properly is enough of an indictment against the episode, when you consider what a fucking unbelievable uber-nerd I am.
2/10
(The 2's because the direction was pretty good)
WHAT THOSE OTHER LOSERS THOUGHT

Incisive Response:
Who would call their daughter...
RIVER SONG!
Moron Response:
River Song was his wife? I must have missed something. How did everyone reach this conclusion? I'm not saying she's not, but why are people convinces she was?
Person who deserves the swift embrace of death response:
I dunno if this has been posted before, but my wife pointed out that RIVER SONG is an anagram of...
ROSE v RING
This sent my head into all manner of guff about the Master's ring and Rose's return and what have you.
Probably all a coincidence or a nice piece of misdirection.
Thoughts? Comments?
(
What. The. Fuck. 'Rose v Ring'?? What the fuck?!? Is that a level on fucking
Street Fighter
or something???? I mean... what?!? Hey, you know my name - 'Jared Hansen'? Did you know that that's an anagram of "A raj hen's den"? Yes - THAT MEANS I AM ACTUALLY CHRISTOPHER SKASE!!!
)
DontTeaseMeRoseTyler Response
: Riversong is a lesbian?
I think this is why the doctor was so sad at the end of the episode, even after he saved her. Think about it. He will see her in the future again, so why was he so full of despair? I think it's obvious he has a one sided love for her in the future and she doesn't tell him until right at the end and they can only remain friends. The Doctor tells her his name only to have it thrown back in his face with rejection. I don't know why they went with an angle like this, possibly to highlight that even though he can take women to the ends of the universe, not everyone will fall for him instantly. People have their own issues as well. I thought they were only going to fill Torchwood with homosexual propaganda, but it seems like the trends are sweeping across to the mother brand.
Everyone else's Response to that: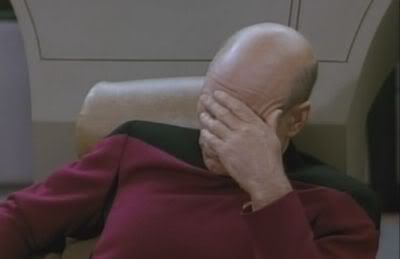 Paraphrased Lawrence Miles Response:
As we all know, the phrase 'behind the sofa' was NEVER used until the eighties... what's that? You watched
Whose Doctor Who
just the other day and Melvyn Bragg uses the phrase? OH, WELL DONE COLUMBO!
Anyway, my point is that Doctor Who has NEVER been scary. EVER. To anybody. SHUT THE FUCK UP DON'T DARE CONTRADICT ME OR I'LL FORCE FEED YOUR BALLS TO NEIL GAIMAN. Yeah, I know he'd enjoy it, I want to get the scrote on-side.
The point is - MOFFAT IS A TOOL! He's trying to make it scary and - hahaha, it's just pathetic. And this is so slow I fell asleep on the sofa and pissed
Blink
for a third time. And this is WONDERFUL - bet you're feeling sorry that you slagged off
The Book of the World
now, eh? It's better than this shit and you can't deny it! NOTHING IN THE WORLD CAN HUMBLE ME NOW!
Next Week:
People on a bus yell at each other.