Okay, a while ago Chris Hale did
a really good cover
for Ewen's fic
The Enemy Within
. I was impressed, naturally, but at the same time over-confident of my own abilities. Being extremely drunk at the time on the manliest of Vodka Cruiser substitutes, I can't remember if I actually used the phrase "I could piss that in my secret library while Robert Kennedy is assassinated by women leaving themselves uncovered like meat, because we're just going to change it all once we've been elected". It would certainly explain the fatwah that Hale placed on me, something he communicated to me through a coded message about how much he liked my 'review' of
Blakes 7: Animals
. (Note: Not an actual review, but rather one really long pedophilia joke)
And now... I stand corrected. I could not do Hale's job for a day. I nearly did a cover. Of fairly low quality. I succesfully made rough images of an evil-looking Doctor with glowing blue-eyes and Cybermen emerging from the Rift (erm, soft of..) and changed the colour of those little bars (Hee hee!). But, as ever, I suck at drawing females. It would be easier if it was Mel I was doing, as imperfections would be permissable, but when dealing with Nicola Bryant.. that just isn't cricket.
And so: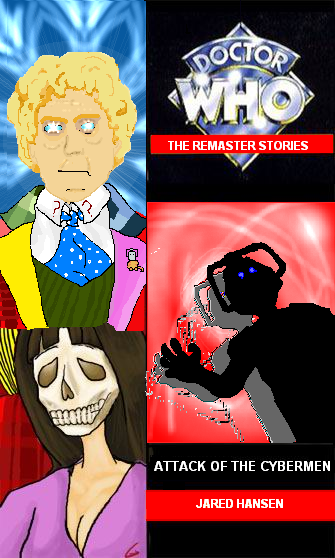 Yes, I drew it OVER Chris Hale's version, to make sure the template stuck. And... it isn't very good. BUT I think the basic idea is good enough, and something could be made of it. If there could just be a Peri draped with Bates' jacket (to continue the MA tradition of depicting the regulars in unusual costumes/general appearance) plonked down, it would be passable.
Of course, then if this got made into a passable cover, you'd have the obvious probelm of feeling obliged to do covers for the whole lot. Probably best avoided...